Google just announced that it will "reorganize" as a new corporate entity named "Alphabet".  In a sense, this is Narcissus looking into a mirror and saying, "I am much more than a silly name meaning the number 1 with so many zeros after it.  No, look world, how Colorful I am!", while creating a You Tube video for all the world to see.  No argument there.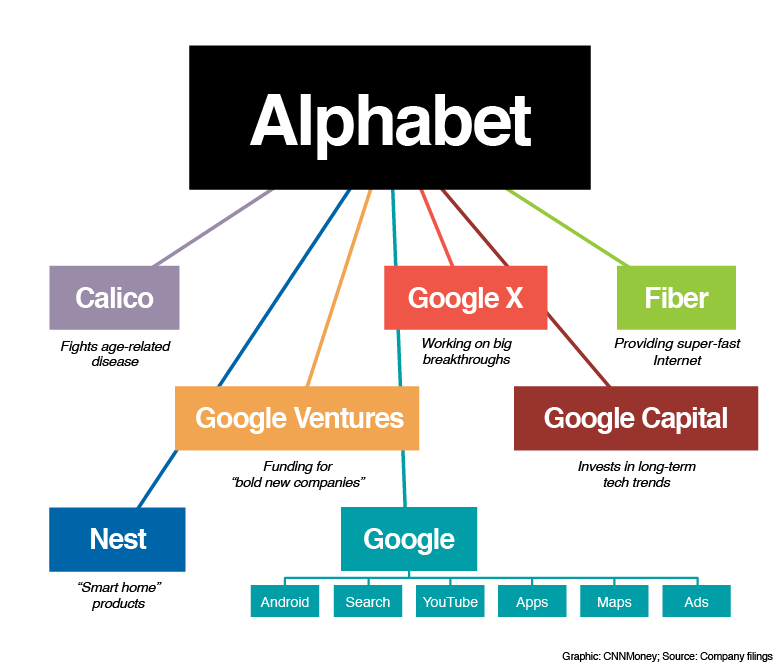 However, there is much more to this reorganization than flash and a new name.
In reality, this is further definition of a financial experiment which may have little or no relevance outside the corporate walls of Google.  Certainly there is the possibility that by more formally separating the pieces, that there will be less infighting and less chaos as influencers within the company are less likely to cross boundaries into the parts of Google to which they do not belong.  It is also by no means clear that this reorganization will be of benefit to Google investors.  For example, 90% of sales is currently generated just by the "Ads" piece.  As economically sexy as all the other pieces are, there is no assurance that any of the other pieces will ever be profitable.
Having said that, it likely will only take one of the other pieces to take off for the all of the ad funding to pay off, depending on how successful that piece becomes.  Give credit to Google for attempting this financial experiment, as no company has ever attempted to do this on such a scale.  Only time will tell  whether Google will be better off attempting to create successful new businesses itself, or whether it would have been better off to go the conventional route of buying established companies with its $61 billion (and growing) cash hoard.
But these alternate realities would have played out the same whether Google reorganized or not.
The main benefit of this reorganization is not so much as a benefit to the current investor, but for the investor at some indeterminant time in the future if/when Alphabet is able to successfully spin off one or more successful companies from itself.  If this happens, it will create real reality (of $$$ in the bank) out of what is now just the virtual reality of ideas with potential.  Only time will tell.